Are you ready to take your business to new heights by harnessing the power of direct marketing? This blog post'll delve deep into direct marketing, exploring its many facets, benefits, strategies, and real-life success stories. We'll also equip you with valuable tips to craft an effective direct marketing campaign that yields impressive results. Get ready to embark on an enlightening journey to discover the true potential of direct marketing for your business and learn how direct marketers can significantly impact your success.
Short Summary
Direct marketing is a promotional strategy that targets customers directly, utilizing personalized messaging and various techniques.

The benefits of direct marketing include cost-effective promotions and the ability to build strong customer relationships.

Tips for crafting an effective campaign involve identifying a target audience, creating compelling messages, and measuring performance metrics.
Direct Marketing Essentials
Direct marketing is a powerful force that allows businesses to connect with their customers on a personal level. It's a versatile and potent tool that encompasses various marketing efforts, including:
Door-to-door sales

Telemarketing

Direct mail

Email marketing

Text message marketing

Social media marketing

Digital marketing campaigns
By eliminating the advertising middleman, direct marketing enables companies, especially start-ups to reach targeted prospects and increase awareness about their products and services.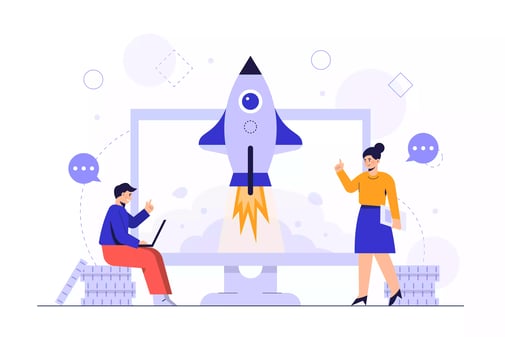 But what exactly is direct marketing? And how does it work? Let's delve deeper into its definition and the essential components that make direct marketing a go-to strategy for businesses worldwide.
Definition of Direct Marketing
Direct marketing is a promotional strategy focusing on targeting customers directly without intermediaries, aiming to utilize personalized messaging to increase sales and create customer relationships by combining various direct marketing techniques. Implementing a well-planned direct marketing strategy is a popular option for businesses to reach customers. Several techniques are commonly used, such as:
Door-to-door salesmen

Promotional telephone calls

SMS

Emails

Kiosks

Hand-out brochures

Coupons
At the core of direct marketing lies a powerful call-to-action (CTA). A CTA is an invitation for potential customers to take action in response to the advertisement. For instance, subscribing to a company's email list or contacting the Company via telephone for additional information can contribute to a successful direct marketing campaign. This direct approach sets it apart from indirect marketing, which involves intermediaries such as wholesalers, retailers, and distribution companies.
Components of Direct Marketing
Direct marketing involves direct promotion and distribution, necessitating the utilization of infrastructure, data, and processes to reach target customers effectively. Some common types of direct marketing include telemarketing, direct mail marketing, and direct response marketing. In contrast, direct and indirect marketing strategies can be employed to maximize the reach and impact of promotional efforts.
Telemarketing is a form of direct marketing wherein a marketing organization contacts potential buyers via telephone. On the other hand, direct mail marketing involves sending information about products, special offers, services, and sales to a physical address using the postal service. Direct response marketing involves using various media outlets such as television, radio, and multimedia. These channels are used to deliver promotional messages directly to the consumer.
Catalog distribution, one of the earliest techniques associated with direct selling, involves manufacturers and retailers distributing catalogs through the mail and enabling customers to send mail orders for items they wish to purchase. Internet marketing, another form of direct marketing, utilizes online search engines to drive visitors to a company's website.
Direct Marketing Benefits for Businesses
Direct marketing offers a plethora of advantages to businesses. It enables companies to build strong customer relationships, cost-effectively promote their products and services through promotional messages, and benefit from improved customer response. From startups to established enterprises, direct marketing empowers businesses to reach their target market, build a loyal customer base, and adjust to changing market trends.
Let's look at how direct marketing can lead to cost-effective promotions and enhance customer relationships, two critical factors for long-term business success.
Cost-Effective Promotions
Direct marketing allows businesses to target specific demographics and meet their sales objectives while optimizing their marketing expenditures. Internet marketing and social media are cost-effective direct marketing strategies for companies with limited budgets.
By leveraging direct marketing, businesses can execute successful and inventive marketing initiatives with a minimal outlay compared to traditional broadcast advertising. This targeted approach ensures that marketing efforts are focused on genuinely interested consumers, maximizing return on investment while minimizing unnecessary costs.
Enhanced Customer Relationships
Direct marketing can help to foster customer relationships through the personalization of messages, loyalty programs, and customized offers. Businesses can build strong customer connections and reinforce existing relationships by tailoring marketing messages to a specific audience.
Enhanced customer relationships increase sales, customer loyalty, and long-term business success. Direct marketing offers the opportunity to personalize advertising messages and offers, thus allowing marketers to build strong connections with customers and reinforce existing relationships.
Direct Marketing Strategies and Techniques
With a better understanding of direct marketing essentials and benefits, it's time to explore the various strategies and techniques available to businesses. By learning how to combine direct marketing techniques, such as email marketing campaigns, SMS and mobile marketing, and social media marketing, companies can create a lasting impression on their target audience and drive sales.
Let's delve into these direct marketing strategies and techniques, highlighting their unique features and advantages for businesses aiming to connect with their customers. Remember you can always start by developing your SMART objectives.
Email Marketing Campaigns
Email marketing is an affordable and effective way to communicate with customers through promotional emails, newsletters, and transactional emails. With a vast majority of people using email as their primary mode of communication, businesses can leverage email marketing to reach their target audience and establish a strong connection.
From personalized messages to tailored offers, email marketing provides an excellent platform for businesses to engage with their customers and drive sales.
SMS and Mobile Marketing
Mobile marketing involves sending promotional material to users on mobile devices, offering higher response rates and cost-effectiveness. With the increasing number of people using smartphones, businesses can instantly use SMS and mobile marketing to reach their target audience.
From sending short text messages (SMS) to creating mobile banner ads, mobile marketing presents a powerful and dynamic platform for businesses to engage with customers and drive sales.
Social Media Marketing
Social media marketing refers to creating content and campaigns to promote products and services on various social media platforms. Some of the most popular social media platforms include:
Facebook

Instagram

Twitter

LinkedIn
With billions of users across these platforms, social media marketing provides a unique opportunity for businesses to connect with their target audience and amplify their brand presence.
The advantages of social media marketing include:
Generating leads

Driving website traffic

Promoting sales

Engaging with the audience

Generating buzz around products and services

Converting prospects into customers
Real-Life Examples of Successful Direct Marketing Campaigns
Now that we've explored the various direct marketing strategies and techniques let's look at some real-life examples of successful direct marketing campaigns. These examples showcase the effectiveness of various strategies and demonstrate how businesses can leverage direct marketing to achieve impressive results.
From creative approaches to innovative techniques, these direct marketing examples provide valuable insights into what makes a marketing campaign successful and how businesses can apply these lessons to their marketing initiatives.
Example 1: Goal Based Marketing
In an era of digital transformations and growing startup ecosystems, making your brand stand out and connecting directly with your audience is crucial. That's where Goal Based Marketing shines.
At Goal Based Marketing, we leverage the power of direct marketing to deliver measurable results for startups. One of our successful campaigns was with a fintech startup, where we implemented a targeted Account-Based Marketing (ABM) strategy. By focusing on a select group of potential customers, we achieved a 150% increase in lead-to-opportunity conversions, significantly accelerating the startup's growth.
Our direct marketing strategies are not one-size-fits-all. They are personalized, tailored to each startup's unique needs and business objectives. We believe in clear, compelling messaging that directly addresses the customer's needs and pain points.
Example 2: McKinsey & Company: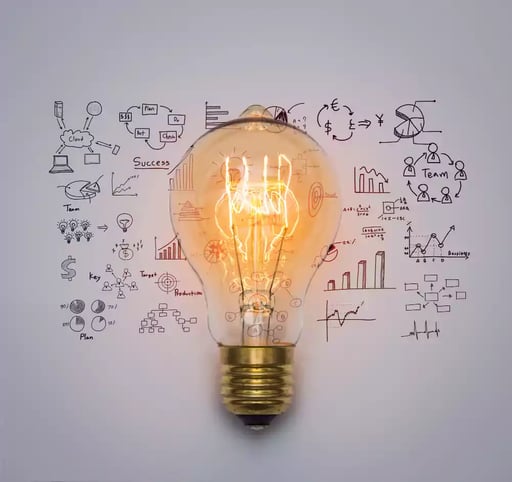 McKinset known for its comprehensive but high-cost services, aimed to reach a vast audience with its campaign. Although their approach led to a significant increase in brand awareness, it resulted in a conversion rate of approximately 25%.
While McKinsey has a stellar reputation in the consulting industry, their direct marketing strategies often employ traditional, general models. These may not be as effective in addressing each startup's unique needs and challenges. Though precise and professionally crafted, their broad messaging may not resonate as deeply with the targeted customer's unique circumstances and needs.
While commendable, McKinsey's effort in direct marketing underscores the importance of a more personalized, focused approach – especially for startups looking for cost-effective, high-impact solutions.
Tips for Crafting an Effective Direct Marketing Campaign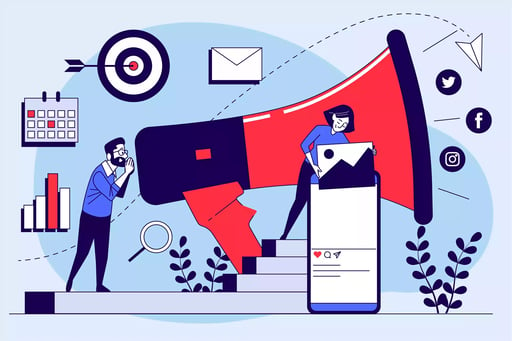 Armed with the knowledge of direct marketing essentials, benefits, strategies, and real-life examples, it's time to put your newfound wisdom into practice. In this section, we'll share practical advice for creating a successful direct marketing campaign that resonates with your target audience and encourages them to take action.
Whether you're a seasoned marketer or a business owner looking to venture into the world of direct marketing, these tips will help you craft a campaign that grabs attention and drives results.
Identifying the Target Audience
To ensure the success of your direct marketing campaign, it's crucial to determine your target audience demographics and select the most effective marketing techniques based on their preferences and characteristics. By asking the right questions, such as:
Who stands to gain from your product or service?

What is the motivation behind purchasing your product or service?

When and where will they acquire this?
You can identify your target audience and tailor your marketing efforts accordingly.
Once you have identified your target audience, you can create a marketing strategy tailored to your target audience.
Crafting Compelling Messages
Develop personalized and engaging messages that resonate with your target audience and encourage them to take action. Ensure your marketing message is clear, concise, and relevant to the recipient. Incorporate visuals to draw attention and elicit an emotional response that prompts the desired action.
Crafting compelling messagesmessages'll increase the likelihood of your direct marketing campaign's success.
Measuring Campaign Performance
To evaluate the effectiveness of your direct marketing campaign, track response rates, assess customer feedback, and monitor the campaign's overall performance. By analyzing response rates, cost per order/lead, ROI, and other relevant metrics, you can identify areas for improvement and validate the investment in your direct marketing efforts.
This invaluable information will enable you to make informed decisions for upcoming campaigns and ensure the continued success of your marketing initiatives.
Summary
In this blog post, we've explored the world of direct marketing, delving into its essentials, benefits, strategies, and real-life examples. We've also provided practical tips for crafting an effective direct marketing campaign. By harnessing the power of direct marketing, businesses can establish meaningful connections with their customers, drive sales, and achieve long-term success. So, conquer the world of direct marketing, armed with the knowledge and tools to make your marketing efforts shine.
Frequently Asked Questions
What does a direct marketer do?
Direct marketers create tailored marketing content for prospects and existing customers using customer data such as age, income range, reading, and browsing habits. They reach customers through email, text messages, direct mail, social media, phone/SMS campaigns, mail order catalogs, flyers, postcards, coupons, and door-to-door sales.
These methods allow direct marketers to target specific audiences and deliver personalized messages that are more likely to be effective. They can also track the success of their campaigns and adjust their strategies accordingly.
What are examples of direct marketing?
Direct marketing includes tactics such as email campaigns, telemarketing calls, SMS messaging, direct mail campaigns, print ads, and even door-to-door sales.
What are the three types of direct marketing?
Direct marketing comes in three primary forms: email marketing, social media marketing, and PPC advertising. These channels help target customers with messages encouraging them to take action.
What do direct marketers make use of?
Direct marketers use email marketing, direct mail, telemarketing, text messaging, and social media ads to communicate their marketing message to potential customers directly.
Traditional forms of direct marketing, like mail-order catalogs, flyers, postcards, coupons, and door-to-door sales, are also popular.
What do you mean by direct marketing?
Direct marketing refers to the direct communication or distribution of marketing messages to individual consumers, typically through mail, email, social media, and texting campaigns.
These campaigns are designed to reach a specific audience and encourage them to act, such as purchasing or signing up for a service. They are often used to target customers who have already expressed an interest in a product.
Tom Burchnell is a seasoned marketing executive passionate about powering startups to success. With a robust background in both B2B and B2C marketing, Tom has built an impressive career through his strategic insight, adeptness at product positioning, and masterful development of go-to-market strategies. His strengths lie in identifying untapped opportunities within the competitive startup landscape, devising tailor-made strategies to maximize potential, and transforming data into actionable marketing initiatives. Tom has a strong record of driving significant revenue growth, a testament to his skills in product marketing, growth marketing, and brand marketing. Renowned for crafting compelling content that resonates with diverse audiences, Tom is adept at bridging the gap between brands and their target consumers. He is a dynamic force within the marketing realm, continuously striving to push boundaries and foster growth for ambitious startups. His experience at leading fintech and proptech startups and his consultative roles across various sectors lend a unique perspective to his marketing approach. With Goal Based Marketing, Tom is dedicated to helping startups navigate their growth journey, providing them with personalized, result-oriented marketing strategies.